Now I am going to share with you all about my little adventure in Tokyo, Japan. I went there last year (2012) during spring season. The main reason of my trip was to visit the most populated city on earth, go to Mount Fuji, and enjoy the cherry blossom. One of the thing that i should not miss is to try their local food. So, i did google search and looked for the popular ramen shop over there.
After couple hours of researching, i found this place called Ichiran ramen, located on Ueno Station (7-1-1 Ueno Taito-ku Tokyo-to 110-0005). The place was not too far from the hotel where i was staying. Tokyo is really convenient city. Basically, you don't need car to go everywhere in the city. They have really good public transportation.
Please check this map of Tokyo subway system

Back to the topic, So i went to the station where this place is located. Was it easy to find this place? 🙂 I got lost in this station.

Fortunately, there is a nice janitor that was willing to direct me to the place. My Japanese was not that good at that moment. What i did was showing him the name of the place on my phone 😛
Finally, I found the place!!!
The place is not big. It has 27 counter-seats and 10 table seats. When I came to the restaurant, the employee greeted me in Japanese, he told me to sit in one of the cubicle there.
He explained how to order the food (in English). I had to do my order from the ticket vending machine. He also gave me the form to specify my ramen preference. I could specify the thickness of the broth, the softness of the noodle, the saltiness of the soup, etc.
You could find more instruction from this website http://www.ichiran.co.jp/english/html/oshokuji.html
I ordered the tonkotsu ramen with extra meats. After waiting for about 10 minutes, they brought the ramen bowl to my booth.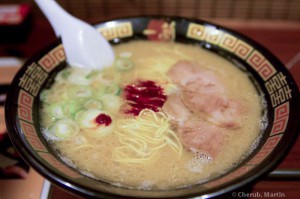 The ramen was perfect. The broth has really rich taste, the meat was tender. The noodle was cooked perfectly, you can feel the texture and the softness of the noodle. The Ramen came with their signature red sauce on the ramen. The red pepper sauce did not kill the taste of the ramen, It has a good balance.
CHERUBSCORE: 9.6
Note: This place opens 24 hours. So if you are hungry at night or lost in subway station, this is the good place to go.