Most of you probably have seen the cool documentary Jiro Dreams of Sushi. The documentary tells us the story of Jiro Ono, one of the greatest sushi chef in the world. He received 3 stars from Michelin. For more story about him, you could watch the the trailer or buy the movie above.

After watching the documentary, I made the promise to myself when I am travelling to Japan. To make reservation, it is not easy thing to do. Many magazines or blogs mentioned that this place is the most difficult place to get into. They only have 10 seats in their stores and we have make the reservation 1 month before. The rule number one: you have to know somebody that speaks Japanese in Japan to reserve it. I did countless phone calls to concierges and hotels, none of them are willing to help me to reserve it. There reason was that if you miss the appointment, the person who make the reservation has to pay 10,000 yen /$100 cancellation fee. I almost gave up go somewhere else for sushi. Fortunately, I found the hotel that could make the reservation. Hint: Book a room at expensive hotel like Ritz Carlton, not in cheap hostel or love hotel.
Once I have received the confirmation, I bought my ticket to fly to Japan. My appointment was for dinner at 7pm. They have 2 locations, one in Ginza and the other one in Roppongi Hills. If you don't speak Japanese, they usually send you to the Roppongi location. If you are Obama or Katy Perry, you probably could meet Jiro.
The chef in Roppongi location is Jiro's younger son,  Ono Takashi. He is really friendly guy and speaks English.
During my visit, I was not the only foreigner in there. All of them are tourist that came from Europe and Brazil. When they asked me if I do not eat any certain sushi, I told them that I would eat anything (I just don't want to miss any of good stuff >.<) . Usually for a meal you will get about 20 pieces of sushi, you are not gonna be hungry for sure.
These are the sushi pictures in the order they were served: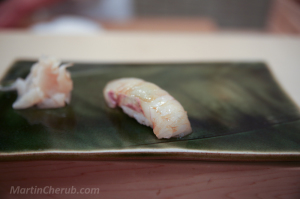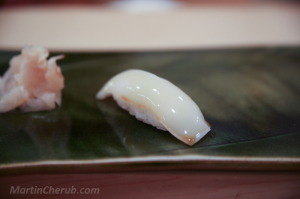 The fish quality are the best one in Japan. When I bite the sushi, it was chewy and rich in flavor.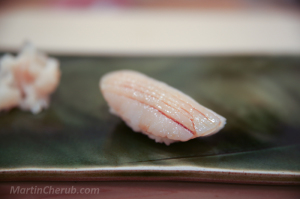 He served the the blue fin tuna sushi, from the cheap one (less fat) to the most expensive one. It was super amazing. I have never tried blue fin tuna that has rich taste and not fishy before. They found the secret to make the fish taste rich does not have fishy taste.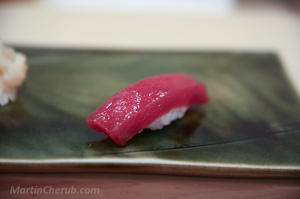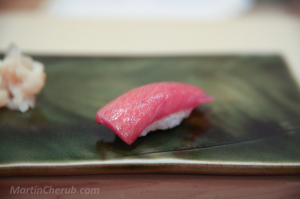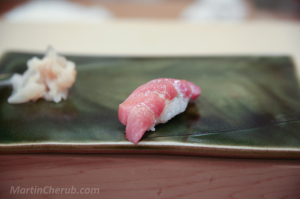 Their Anago or salt water ell was super awesome. It was the first time for me and was delicious. It has rich and sweet flavor inside.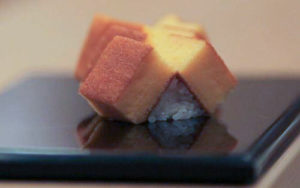 And for desert don't forget to eat, Tamagoyaki, a cake made of egg. It is different from what I usually eat in US. In US, Tamagoyaki is similar to omelette. This one is more like a cake and sweet. The total bill was 28,000 yen or $280. It was probably the most expensive dinner ever for me, but it was really worth it. Definitely will come back.
CHERUBSCORE: 10/10