I really love ramen.  It was started when I was travelling to NYC, My friends brought me to a little Japanese joint called Ippudo. In my mind, ramen is just the instant noodle that i usually eat during my college time (Maruchan ramen, el cheepoo. lol). After I tried their noodles, my perception about the ramen was changed completely. Well, to make the story short,  I even have traveled to the land of the rising sun (Japan) to experience the real and authentic ramen. I will make more detail story about this later.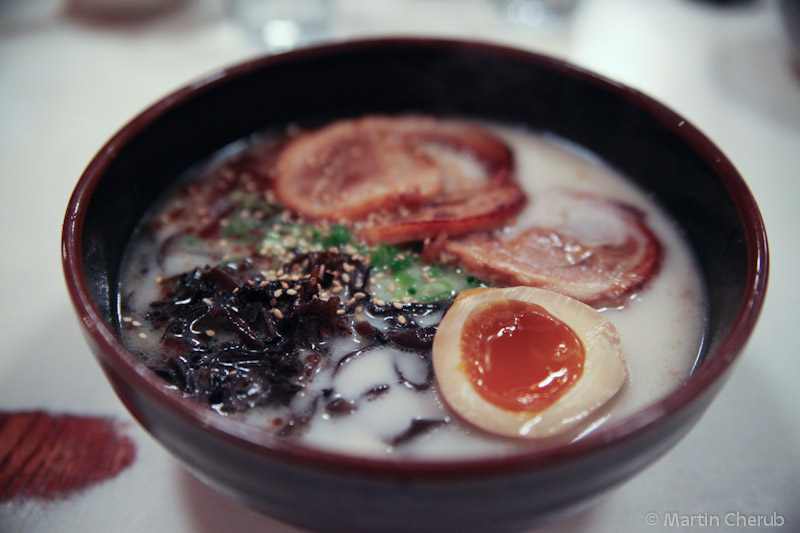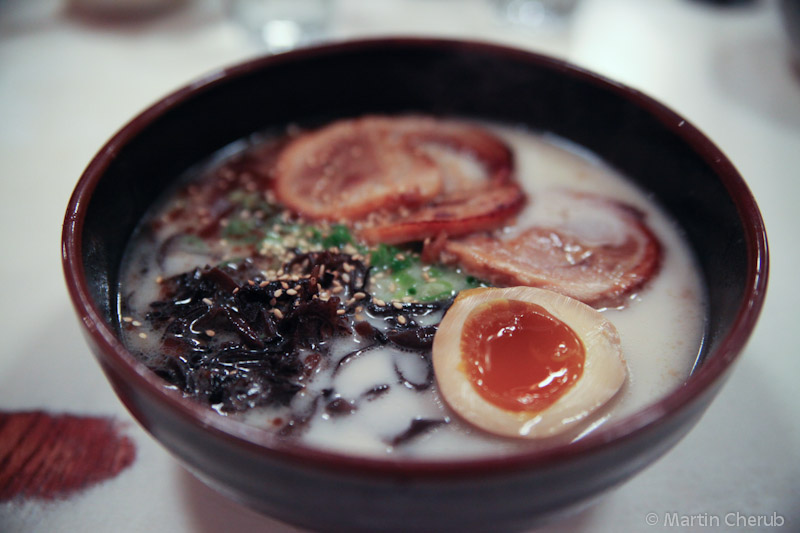 For today's article we are going to Austin, the capital of Texas. I have lived in Texas for almost 5 years. I have not seen a real good ramen until i went to Austin and found this place called Tatsuya.
Austin has two good authentic ramen places: Michi ramen and Tatsuya. On the same day we went to both place just to compare the ramen that they have. In our party, we have one japanese, to make this review more legit.
Let's start!!!
Michi Ramen, 6519 N. Lamar, Austin TX 78752
After 2 hour drive from Houston, Texas, we arrived at this ramen shop. They started the business from a little food truck. The place that they have is very nice, decorated with minimalist design. No Japanese feeling at all. But that is ok, since we were there to try their ramen noodles anyway.
Our Japanese guest was so excited to try this ramen here. I told her that this place has a good reviews on Yelp and couple of my friend recommended this place. According to her, the authentic ramen should be served hot and steaming. They have several different kind of ramen. But for this review, i only make a comment on their Tonkotsu / Michi Ramen.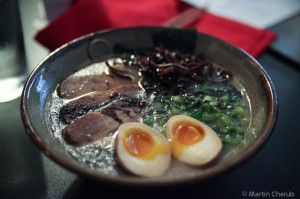 I ordered extra topping on that ramen, which is the marinated egg (Ajitama). From the appearance and the way they arrange the toppings, i could tell that they know how to make a good ramen. I rarely see something like this in Texas. The only missing thing is the temperature and the steam. They served the ramen in colder temperature. The broth on this ramen is so good, thick and creamy. But, you have to eat it while it is warm. After 5 minutes, the broth has different taste. I have at least 2 of my companions share this to me. The pork slice on this thing is too thick and hard. I think i have to high standard on the pork slice. lol
The noodle texture is good. It is very similar to the noodles that i ate back in Indonesia, brought some nostalgic moment when i was eating it. I think this place has met my "passing" expectation of ramen. It is better than any ramen that i have tried in Houston. I think I am very critical in reviewing something. But the good thing from that is you will get more info from me than any other place.
After eating this ramen, i felt so thirsty and so slow. Hmmmmm (Sign of Chinese food syndrome). Not sure what caused it, but my friends told me that they used to many MSG. oh well…
After finished our meal, our Japanese friend does not look very satisfied with the ramen that we just had. Suddenly, crary idea just popped into my mind. I suggested for us to go to the other place, which is only 2 miles from Michi.
CHERUB SCORE: 8.0
Tatsu-Ya Ramen, 8557 Research Blvd. #126 Austin, TX 78758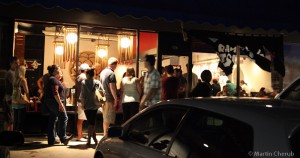 When we arrived there, we saw a long lines in front of their door, something that we did not see on the other place. Just by looking from outside, our Japanese friend could tell that the shop is very authentic. It has the Japanese sign and decorations. People did not mind to wait for about 30 minutes to try their ramen.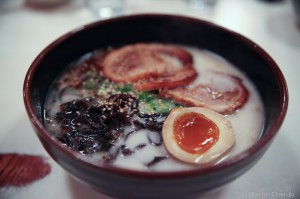 Although the place is smaller than the other one, it is decorated really nice and unique. It is the mixture of traditional and modern art. Make sure you check their restroom, you will find cool art. I visited this shop last year and became my favorite ramen shop in Texas. As usual i ordered  Tonkotsu ramen. We want to make apple to apple comparison on these ramens. Because we ate before, we only ordered 2 bowls for 5 of us. I asked for extra pork slices.
Why? their pork slices are one the best pork slices that i've ever eaten in my life. It is so soft and tender. They cut it so thin and keep the fat on the meat. Once you put it in the mouth, you do not even have to chew it, it melted inside the mouth. Hmmm Heaven. The broth on this ramen also perfect. You could tell that they made it naturally. I did not fell any thirstiness or sluggish after drinking the soup. (no or less MSG, i guess). The egg is perfect too. The noodle is almost exactly the same with the ramen noodle that I ate in Tokyo. Two thumbs up
Funny thing: My friend told them that we went to Michi earlier and came to Tatsuya to compare it. For some reason we received extra Ramen bowl with extra pork slices. Since, we have eaten in two restaurants, we were pretty full. I ended up eating the extra bowl and extra porks. PRICELESS. Never had ramen buffet in my life before.
CHERUB SCORE: 9.5
Conclusion:
Both of the stores did a great job in making a ramen. They are far better than any other restaurants that serve ramen in Houston or Dallas. I hope that they will open good ramen shops in Houston.